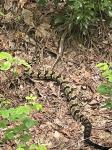 Photo 101 GORG
Seen Crossing Chestnut Mountain Rd.

Photo 102 GORG
Marks on the pavement indicate that this animal was targeted as the initial vehicle that hit it, moved in to the opposing lane to strike the animal. Rattle was also removed.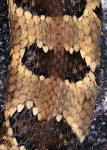 Photo 103 GORG
Dorsal closeup of a DOR animal.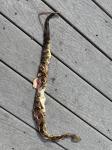 Photo 104 GORG
DOR - Female - 26"